On Thursday we visited the Kildare Road Safety Expo in Punchestown Race Course. Upon arrival we got out of the bus and then the wind hit us, hair went everywhere, not fun. As we entered the hall we got yellow wrist bands and we were set free. First thing everyone went to was the free stuff obviously. We got high-vis vests, stickers and key rings.
The RSA had a big section in the expo, there was a big van/truck and inside they had different demos such as to test your break reaction time and a bike you cycle on and steer with a tv screen showing you on a road. My friend Jayne got snapped on the bike, even through her cries of horror he still took like 10 pictures. The RSA also had their 'Roll Over Car Simulator'. Jayne, Sophie, Niamh and I queued for over an hour and a half but was rudely turned away just as we were about to go. I'm disappointed that I didn't get to try out this valuable experience.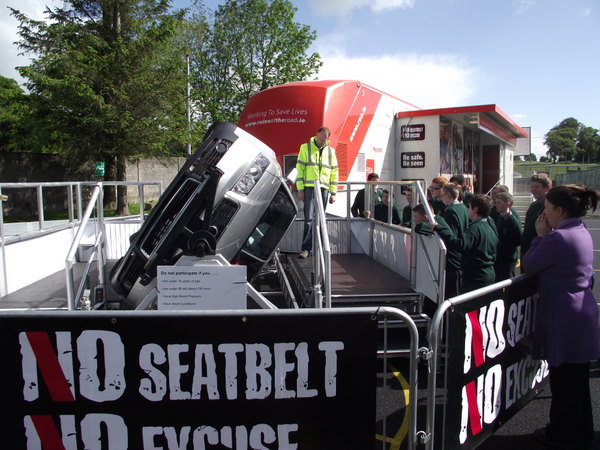 We then all gathered in an area for a presentation about road safety. First the NYPD and their 'Tangobot' entertained us. Firstly we achieved the perfect Mexican wave then they invited a student up on stage and got him to act like a gangster and speak some French too, and finally we were asked to make a difficult decision, would we prefer a Garda patrolling the streets or Tangobot obviously the Garda won.
Then the scary stuff came, we were informed of the statistics on road deaths and shown some videos aswell. It was okay altogether but not getting to go on the car roll over simulator was a disappointment.